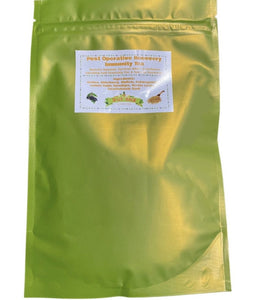 SHIPPING: POST OPERATIVE IMMUNITY TEA
Helps to speed up the healing process by reducing swelling, bruising, and pain. Boosts your immune system by providing antioxidants and vitamins to help tame inflammation and relax your muscles.
Ingredients:
Arnica, Elderberry, Mullein, Ashwagandha, Lemon Balm, Rosehips, Stevia Leaves, Cuachalalate Bark

Benefits: Recovery and strengthens immune system.
Daily serving size: Pour 8-12 oz of boiling water (212° F) over 1 tsp. of tea. Steep 3-4 minutes.
Disclaimer: These statements have not been evaluated by the Food and Drug Administration. Our products are not intended to diagnose, treat, cure, or prevent any disease.