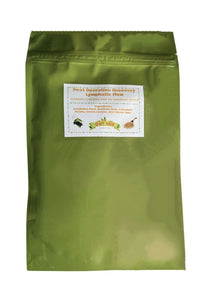 LOCAL DELIVERY: POST OPERATIVE LYMPHATIC FLOW TEA
Helps assist the body in removing toxic waste from fluids and tissues by providing treatment of acute and chronic lymphatic congestion, swollen lymph nodes, and cleaning body tissues.
Ingredients: Dandelion Root, Burdock Root, Calendula Petals, Stevia Leaves, Red Clover Tops

Benefits: Reduces water weight from lymphatic system.
Daily serving size: Pour 8-12 oz of boiling water (212° F) over 1 tsp. of tea. Steep 3-4 minutes.
Disclaimer: These statements have not been evaluated by the Food and Drug Administration. Our products are not intended to diagnose, treat, cure, or prevent any disease.