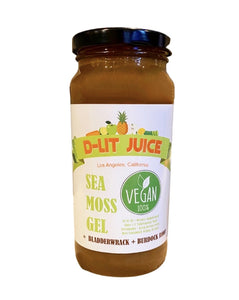 LOCAL DELIVERY: IRISH SEA MOSS GEL + BLADDERWRACK + BURDOCK ROOT
Bladderwrack & Burdock Root Benefits:

Healthy Hormone Balance
Boosts Immunity
Anti-Inflammatory
Healthy Heart
Boosts Energy Levels
Anti-Viral
Healthy Liver
Lowers Blood Sugar
Cleanses Blood
Irish Sea Moss Benefits:
Contains 92 Minerals
Boosts Energy Levels
Promotes Good Digestion
Anti-Inflammatory
Boosts Immunity
Anti-Viral
Mucus Dissolver
Joint + Tissue Health
Improves Mental Health
Healthy Skin Support
Dietary Supplement | Vegan | 16 FL OZ
Suggested Use: As a dietary supplement, take two (2) - three (3) tablespoons daily.
Perishable | Keep Refrigerated
Shelf Life 3-4 Weeks
Ingredients: Irish Sea Moss, Alkaline Water, Bladderwrack, Burdock Root, Cinnamon, & Key Lime.
These statements have not been evaluated by the Food and Drug Administrations. Our products are not intended to diagnose, treat, cure, or prevent any disease. Consult your physician before using any herbal products.