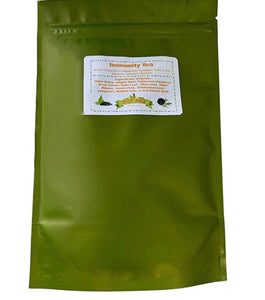 LOCAL DELIVERY: IMMUNITY TEA
Helps Prevent & Eliminate Common Cold & Flu
Boosts Immune System
Ingredients (Organic)
Elder Berry, Ginger Root, Echinacea Purpurea Herb, Lemon Balm Leaf, Olive Leaf, Elder Flower, Lemon Peel, Goldenseal Leaf, Lungwort, Mullein Leaf, & Red Clover Herb
Daily serving size: Pour 8-12 oz of boiling water (212° F) over 1 tsp. of tea. Steep 3-4 minutes.
Benefits: Helps to strengthen your respiratory and immune system to prevent illness. Such as swollen sinuses (sinusitis), colds, influenza (flu), swine flu, pneumonia, bronchitis, asthma, whooping cough, cough, sore throat, and sneezing.
Disclaimer: These statements have not been evaluated by the Food and Drug Administration. Our products are not intended to diagnose, treat, cure, or prevent any disease. Consult your physician before using any herbal products.