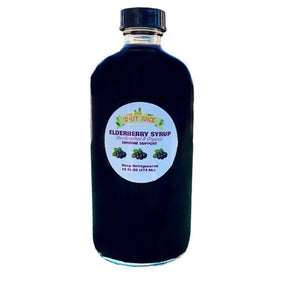 LOCAL DELIVERY: ELDERBERRY SYRUP
Ingredients (Organic) Elderberry, Cloves, Ginger, Cinnamon Sticks, Raw Honey
16 FL OZ (473 ML)
Take 1-2 Tablespoons Daily 
Keep Refrigerated/ Shake Well
Store 2-3 Months in Fridge
Benefits:
• Boost Immune System
• Fight & Protect Against Bacterial Infections 
• Fight & Protect Against Viral Infections 
• Reduces Symptoms & Duration of a Cold or The Flu
• Helps Clear Sinus Infections 
• Removes Mucus From The Lungs, Sinuses, & Body
• Promotes Bowel Movements 
• Anti-Inflammatory Properties 
• Eases Allergy Symptoms 
• High in Antioxidants 
• High in Vitamin A (Healthy Skin)
• Anti-Carcinogenic Properties 
Customer Reviews
03/04/2022
Mayra A.

United States
ELDERBERRY SYRUP
One of the Best natural ELDERBERRY SYRUP I had. Taste is delicious, and #1 that I can feel the different when I take it. Thank You D-LIT Juice for help us live longer with all the Best products.