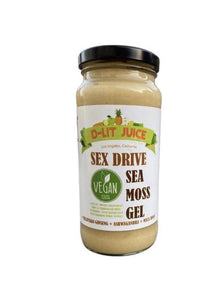 SHIPPING: IRISH SEA MOSS GEL + MALAYSIAN GINSENG + ASHWAGANDHA + MACA ROOT
WARNING‼️THE TASTE IS VERY BITTER BECAUSE OF THE MALAYSIAN GINSENG BUT IS VERY BENEFICIAL!
Irish Sea Moss, Malaysian Ginseng, Ashwagandha, Maca Root Benefits:
Enhances Sex Drive
Increases Libido
Increases Fertility
Improves Mood
Relieves Stress
Increases Energy
Strengthens Immune System
Relieves Anxiety
Promotes Muscle Strength
Boosts Sport Performance 
Irish Sea Moss Benefits:
Contains 92 Minerals
Boosts Energy Levels
Promotes Good Digestion
Anti-Inflammatory
Boosts Immunity
Anti-Viral
Mucus Dissolver
Joint + Tissue Health
Improves Mental Health
Healthy Skin Support
Dietary Supplement | Vegan | 16 FL OZ
Suggested Use: As a dietary supplement, take two (2) - three (3) tablespoons daily.
Perishable | Keep Refrigerated
Shelf Life 3-4 Weeks
Ingredients: Irish Sea Moss, Alkaline Water, Malaysian Ginseng, Ashwagandha, Maca Root, Key Lime, & Honey.
These statements have not been evaluated by the Food and Drug Administrations. Our products are not intended to diagnose, treat, cure, or prevent any disease. Consult your physician before using any herbal products.

Ingredients: